Carpet Expo Mart Bhadohi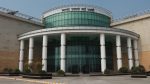 Bhadohi District is known by the name 'CARPET CITY' as it is home to the largest hand-knotted carpet weaving industry hubs in South Asia. A large number of buyers from domestic and overseas markets visit Bhadohi in connection with business deals. The district is surrounded by Jaunpur District to the north, Varanasi District to the east, Mirzapur District to the south, and Allahabad District to the west. Bhadohi has been linked with Lal Bahadur Shastri airport at Varanasi through 4 – lane road to facilitate foreign carpet buyers to come for their business negotiations directly with the carpet manufacturers and exporters of Bhadohi. The town is located on Varanasi-Delhi railway line, about 42 km to the West of Varanasi city. The town is well connected by road and rail to other parts of the country.
In view of export enhancement of the carpet sector, Government of UP has built a Carpet Expo Mart at Carpet City Bhadohi in 7.5 Acres of land for improving the vast potential of exporting Bhadohi Carpets. It is India's one of the state of the art project for carpet sector.
Carpet Expo Mart at Bhadohi is a Green Mart with Solar Power, having following key features:
Mart is centrally air conditioned with all other facilities of international standard i.e.
Fully-furnished conference hall which will facilitate for physical and virtual meetings.
Provision of 5 world class restaurants
8 Passenger and Service Lifts
Fully enabled with 24×7 wi-fi facility
Completed covered with CCTV Surveillance
Centrally Public Address System
Sufficient Parking
24×7 Security
24×7 Power Backup
94 permanent shops of approx. 130 sq. mtr. for display of Handmade Carpets and other floor coverings.
Mart is having exhibition area / Hall of 7000 sq. mtr. in which CEPC will organize 2-3 international events as well as 5-7 Domestic events in a year.
World class Design Studio which will benefit the entire industry with contemporary designs assistance for exports.
Approved provision for 5-star hotel in adjoining plot of mart.
CEPC regional office
This mart will directly benefit approx. 800 exporters of Bhadohi-Mirzapur-Varanasi Carpet Belt and approx. 10 lakhs weavers.
On 31st December, 2020 Shri Yogi Adityanath, Hon'ble Chief Minister of U.P. inaugurated the Carpet Expo Mart, Bhadohi in the presence of Shri Sidharth Nath Singh, Hon'ble Minister, MSME & Export Promotion, U.P Govt., Shri Rama Shanker Singh Patel, Hon'ble Power Minister, Shri Ramesh Chand Bind, Hon'ble Member of Parliament, Bhadohi, Shri Ravinder Tripathi, MLA Bhadohi, Shri Dina Nath Bhasker, MLA Aurai, Shri Siddh Nath Singh, Chairman, Carpet Export Promotion Council, Shri Navneet Sehgal, IAS. Additional Chief Secretary (ACS) MSME & Export Promotion and other Senior Officials.
Council is in the process to make the mart fully functional by allotment of shops and will organize at least 2 International Exhibitions in a year in which Overseas Buyers from 60 countries will visit and also organize 5-7 Domestic Exhibitions of Handmade Carpets and other floor coverings and other products like – Garments, Leather Products, Jute Products, Handicrafts, North East Products, Moradabad Brass, Mirzapur Bartans etc. More than 600 exporters and 10 lakh Artisans of Bhadohi and Mirzapur area will be directly benefitted from the Carpet Expo Mart, Bhadohi.