Press Release 38th India Carpet Expo In Sampurnanand Sanskrit University Ground (15th In Varanasi)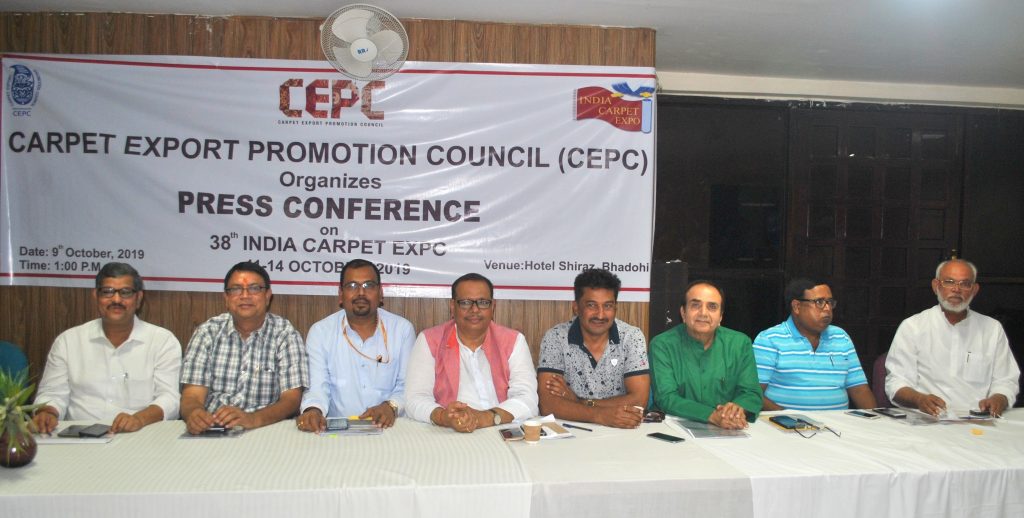 Today a Press Conference was held on hotel Shiraz, Bhadohi wherein Shri Siddh Nath Singh, Chairman, CEPC, Shri Umer Hameed, 2nd Vice-Chairman, CEPC, Shri Umesh Kumar Gupta, Shri Onkar Nath Mishra, Shri Abdul Rub, Shri Rajendra Prashad Mishra, Shri Ram Maurya, Sh Abdul Rub Members COA, CEPC and Shri Sanjay Kumar, Executive Director, CEPC were present. Chairman briefed the media about organization of 38th India Carpet Expo (15th in Varanasi) from Friday, the 11th to 14th October, 2019 in Sampurnanand Sanskrit University Ground under the aegis of Govt. of India with an aim to promote the Cultural Heritage and weaving skills of Indian hand-made Carpets and other floor coverings amongst the visiting overseas carpet buyers. "India carpet expo is an ideal platform for International Carpet Buyers, Buying houses, buying Agents, Architects and Indian Carpet Manufacturers & Exporters to meet and establish long term business relationship.
India Carpet Expo is one of the largest Handmade Carpet Fairs in Asia with a unique platform for the buyers to source the best handmade carpets, Rugs and other floor coverings under one roof. It has become a popular destination worldwide on Handmade Carpets. India's unique capability in adapting to any type of design, colour, quality & size as per the specifications of the carpet buyers has made it a household name in International market. Industry uses diverse Raw-materials from various ports of India i.e. wool, silk, manmade fibre, jute, cotton and various blends of different yarns. Industry is having immense potential for growth both in production and Exports. Industry is environment friendly and does not use scarce & perishable energy resources.
Over the years, the India Carpet Expo has established itself as a great sourcing platform for the carpet buyers from all over the globe. The prime objective of the Council in holding the India Carpet Expo in the major Carpet producing belt Varanasi is to provide 'unique pick and choose' business opportunity to all overseas carpet buyers in the Expo. It is the endeavor of the Council to provide exclusive business environment to the both carpet importers as well as manufacturer and exporters. 230 Members from all over India are participating in ICE, Oct., 2019.
Shri Ravi Capoor, IAS, Secretary (Textiles), Ministry of Textiles, Govt. of India will inaugurate the 38th India Carpet Expo on 11th October, 2019, Shri Shantmanu, IAS, Development Commissioner (Handicrafts) will be the Guest of Honour.
It is expected that around 450 reputed overseas carpet buyers will attend the Expo.
Mr. Siddh Nath Singh, Chairman, said that this exhibition will be taking Indian exports of Handmade carpet to much greater and newer heights.
Mr. Umer Hameed, 2nd Vice-Chairman and all Members of COA, CEPC are confident that the Expo will generate good business and requests the media to extend their full support for the promotion of this event to encourage the participants for handsome business.
Mr. Siddh Nath Singh, Chairman, CEPC further informed the Press that this time Council has instituted Export Excellence Award for the year 2018-19 on 11th October, 2019 under 5 categories and also presenting Lifetime Achievement Award to prominent personalities for their contribution to the Handmade Carpet Industry.
Shri Sanjay Kumar, Executive Director is happy and expressed hope that the ultimate benefit will go to the weavers and their families.
Oct-10-19