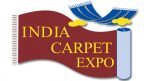 Click Here to Visit Virtual Fair
India Carpet Expo is one of the largest Handmade Carpet Fair in Asia which serves as a unique platform for the buyers to source the best of handmade carpets, rugs and other floor coverings under one roof. It is held bi-annually with a view to showcase the Cultural Heritage of Indian Handmade Carpets & Other Floor Coverings and Promote the Weaving Skills of Indian Weavers to the visiting overseas carpet buyers.
Carpet Export Promotion Council is launching its first Virtual Exhibition  for 5 days – 40th INDIA CARPET EXPO – VIRTUAL EXHIBITION from 21st to 25th August, 2020 to cater to the  demand of the Indian Handmade Carpets  in emerging economies post pandemic. India Carpet Expo is 1st of its kind initiative to bridge the gap between Indian products and demand of Handmade Carpets and floor coverings across the globe. The virtual event gives an opportunity to connect with the buyers looking at Handmade Carpets and other floor coverings from India. These buyers will be verified to ensure the quality of business generated through this event.
Press Release Dated 21-08-2020
Press Release Dated 22-08-2020
Press Release Dated 23-08-2020
Press Release Dated 24-08-2020
Press Release Dated 25-08-2020
Press Release Dated 26-08-2020
For Buyers