Industry At a Glance
Indian Handmade Carpet Industry is Highly Labour Intensive and provides employment to over 20 Lakhs workers/ artisans especially women directly or indirectly in the rural areas. Most of the artisans/ weavers employed are from the weaker section of the Society and this trade provides extra and alternate occupation to them including farmers and others at their homes. Exports increased from Rs. 4.42 Crores in 1961- 62 to Rs. 13810.41 Crores in 2020-21.
"Committed to Hon'ble Prime Minister's vision of "MAKE IN INDIA" with ZERO DEFECTS and ZERO EFFECT"
Ranked No. 1 as a producer and exporter of Handmade Carpets and other floor coverings both in terms of volume and value, Artisans can make handmade carpets in any design, colour, and quality as per the needs of overseas buyers and also caters to the requirement of every segment of the society. Produces a wide range of Handmade Carpets and other floor coverings in low, medium and high qualities for all the segments of consumers, Raw-materials used are diverse and blending & mixing of different yarns is its specialty.
Target beneficiaries: Carpet Weavers, Exporters
******************
Carpet Clusters of India
Jammu & Kashmir, Himachal Pradesh, Punjab, Haryana, MAadhya Pradesh, Rajasthan, Gujarat, Kerala, Andhra Pradesh, Telangana, Odisha, Uttar Pradesh, 7 sisters of North East India
*************
India: A Global Leader in Handmade Carpet
India is today a clear leader in the international handmade carpet market. India's heritage of handmade carpet has been recognized worldwide with a commending share in global exports, for its subtle elegance, eco-friendliness and exquisite vibrant color craftsmanship with a human touch.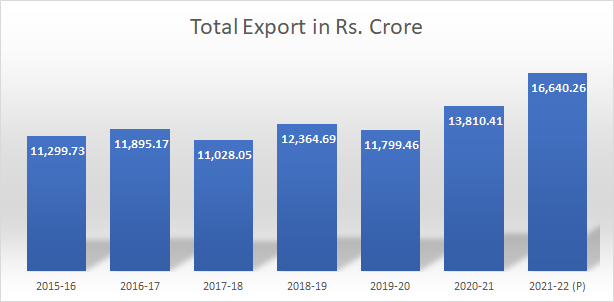 *************
Key Markets and Potential
India is exporting to more than 70 countries in the world, mainly to the USA, Germany, Canada, U.K., Australia, South Africa, France, Italy, Brazil, etc. Started exporting to China.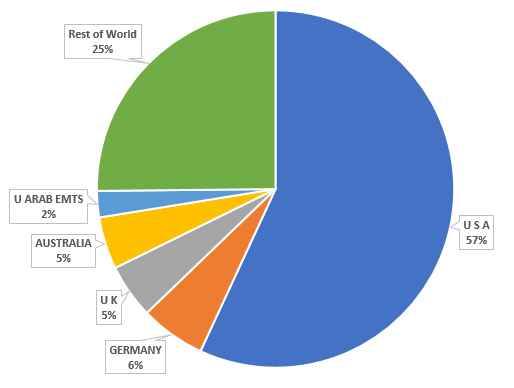 ******************
Click here to view Export Data (2021-22)
Click here to view Country wise Export Data (2021-22)
Click here to view Export Data (2020-21)
Click here to view : An Overview of Indian Handmade Carpet Industry (PDF)