Result of Council's Elections – 2021
Press Release
Dated: 10th September, 2021
Result of Council's Elections – 2021
The General Body of the CEPC in its 35th, 36th and 37th Annual General Meetings held on 18.09.2018, 25.09.2019 and 24.11.2020 respectively deferred the elections of the Members of the Committee of Administration of the Council for the years 2017-18, 2018-19 and 2019-20 for want of the amendments in the Articles of Association and Election Rules of the Council. After the due approval of the Govt. on the Amendments and as per the directives of the Central Govt. dated 17th June, 2021 for conducting elections, the Committee of Administration in its meeting held on 2nd July, 2021 decided to hold the elections of the Council. Accordingly Council's Elections 2021 were notified vide Circular No. CEPC/ELE-2021/Cir. No. 1 dated 20th July, 2021 were concluded on 10th September, 2021 in Hotel Radisson MBD, NOIDA (U.P.) wherein the following were declared elected in the presence of Shri Umar Hameed, Chairman, CEPC, Election Observer – Shri Praveen Kumar, Director, Ministry of Commerce, Election Committee Members – Shri Deeptansu Haldar, Dy. Director, O/o. the DC (Handicrafts), Shri Onkar Nath Mishra, Shri Prakash Mani Sharma, Members CEPC Scrutinizer – Shri Pankaj Aggarwal and Contestants etc. :
Members of Committee of Administration,
Category-I, U.P.
1. Mr. Anil Kumar Singh
M/s. Rajput Carpets
Mirzapur.
2. Mr. Aslam Mahboob
M/s. Alam Rugs
Bhadohi.
3. Mr. Darpan Baranwal
M/s Designs View
Bhadohi.
4. Mr. Feroze Waziri
M/s. Waziri Brothers
Bhadohi.
5. Mr. Imtiaz Ahmad
M/s. Textico
Bhadohi.
6 Mr. Mohammad Wasif Ansari
M/s. Teppich-De-Orienta
Bhadohi.
7. Mr. Ram Darshan Sharma
M/s. Maya Trades
Agra.
8. Mr. Rohit Gupta
M/s. Gallery
Bhadohi.
9. Mr. Shree Ram Maurya
M/s. Ideal Impex
Gopiganj, Bhadohi.
10.Mr. Surya Mani Tiwari
M/s. Surya Carpet Pvt.Ltd.
Aurai, Bhadohi.
Members of Committee of Administration,
Category-II, J&K
1. Mr. Gulam Nabi Bhat
M/s. Umar Carpet Factory
Srinagar.
2. Mr. Kuldeep Raj Wattal
M/s. Bazaz Orient Teppiche
Srinagar.
3. Mr. Sheikh Ashiq Ahmad
M/s. Ferozson Exports Pvt Ltd.
Srinagar.
Members of Committee of Administration,
Category-III (States other than U.P. and J&K)
1. Mr. Bodh Raj Malhotra
M/s. Rugs Overseas
New Delhi.
2. Mr. Mahavir Pratap Sharma
M/s. Oscar Expo Design LLP
Jaipur.
3. Mr. Mukesh Kumar Gombar
M/s. Kanu Overseas
New Delhi.
4. Mr. Vijender Singh Jaglan
M/s. Heritage Overseas
Panipat.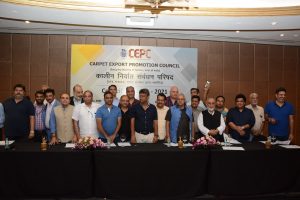 Sep-10-21